By Mail, Phone, or Fax
Cumberland Federal Bank
1390 Second Avenue
P.O. Box 338
Cumberland, WI 54829
Phone: 1-715-822-2249
Fax: 715-822-2279
Cumberland Federal Bank
312 West 9th Street North, Suite 4
P.O. Box 352
Ladysmith, WI 54848
Phone: 1-715-532-2095
Fax: 715-532-2096
Email Us
**Electronic mail sent through this website is not necessarily secure. You should not send electronic mail containing sensitive, confidential information such as account numbers, Social Security numbers, passwords or PINs.**
Routing Number
The routing number for Cumberland Federal Bank is found on the bottom of your checks. It is 291871226.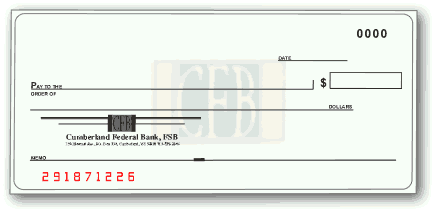 NMLS Number
Improved protection for consumers in mortgage lending.
The Secure and Fair Enforcement for Mortgage Licensing Act is a federal law designed to improve protection for consumers and reduce fraud in mortgage lending.
Under this law, individual mortgage loan originators (MLOs) must register in the Nationwide Mortgage Licensing System and Registry (NMLS).
At Cumberland Federal Bank we take great pride in ensuring that our employees are knowledgeable and earn your trust. All of our MLOs are registered with the NMLS.
Cumberland Federal Bank's NMLS number is 405513.