History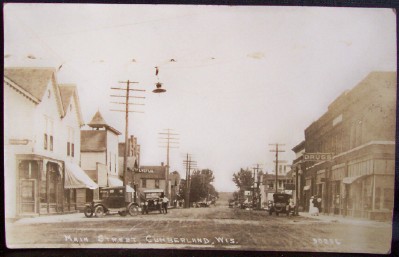 Cumberland Federal Bank was originally chartered in 1934 as Cumberland Federal Savings and Loan Association. The simple and honorable purpose of the savings and loan was to pay fair returns on savings investments and to provide funds for home loans.
Throughout its history, the heritage of Cumberland Federal Bank has been characterized by our exceptional desire to help the community and its residents. This stated desire is reflected in the bank's motto, "Friends Serving Friends," which is supported by its pledge to "provide continually improved financial services accompanied by strong support for our hometown." This support is evidenced by significant community volunteerism by the Bank's board and staff and by a business plan that, for many years, has sought to donate 5% of net income to local charitable concerns.
It is important to note that during this federally chartered, mutual bank's 80-year history, its Board of Directors continually has been composed of highly respected community leaders.
An interest in the welfare of this community led the bank to its unselfish assumption of a critically important responsibility, the establishment of Cumberland Federal Foundation. In 2006, Cumberland Federal Bank announced the establishment of Cumberland Federal Foundation with a $500,000.00 endowment that would give birth to "a lasting legacy of charitable contributions." The mission of Cumberland Federal Foundation is to originate and/or support projects of major and lasting benefit to the Cumberland community.
Mission
The mission of Cumberland Federal Bank is to provide the highest level of financial services and to maintain earnings for continued growth.
President's Message
November is gratitude month. The practice of gratitude is something that I have implemented into my daily life, in fact, I have a gratitude journal and like to write down 5 things I am grateful for each day either before bed or right away in the morning.
Starting a gratitude practice is simple and you can make it whatever you would like, your practice can encompass big events such as we bought our dream house, I was accepted to the college I want to go to, etc. or simple things like a nice weather day, someone held the door for me when my hands were full, etc.

I have found that when you take the time to realize what you are grateful for, your awareness for positive things around you is heightened and in turn, you just have more things to be grateful for.

So why am I sharing this? To say THANK YOU! I am grateful every day for our customers, our friends! When I started with the bank, it didn't take long to realize that we truly embody our "Friends serving friends" motto.

With the upcoming Thanksgiving Holiday, Cumberland Federal Bank would just like to shout our gratitude from the rooftops! Make sure and stop in and sign up to win a Thanksgiving dinner at both locations.
THANK YOU THANK YOU THANK YOU!

Shay
Welcome Letter
Thank you for visiting us online and your interest in Cumberland Federal Bank. In this day in age, I understand there are many options for banking services; however, I believe we have the people, products and technology to help make your financial dreams a reality.
Cumberland Federal Bank is a strong, local community bank, which means you can count on us! We have been in business since 1934 as a trusted financial partner and will continue to be here to help you meet all your financial goals. Decisions are made locally and promptly with a level of personal service not typically found today.
As a true community bank, we have the unique ability to help the communities we serve with volunteer hours and monetary gifts. Our business plan includes giving back a minimum of 5% annually to charitable and civic causes and we have our own Foundation for larger endowments.
Yes, we offer all the great products and services you are accustomed to and looking for in a bank. What you may not find other places is the commitment we have for you and the community we live in. Our "Friends serving Friends" way of business means we are not just your bankers, but your neighbors and friends too. Our employees live and work in the communities we serve, making our stake in your success even greater.
Welcome to Cumberland Federal Bank!
Shay Horton
President & Chief Executive Officer